Mastery of the skies in the Middle East is obtained by Unmanned Aerial Vehicles – UAV's, and at a huge cost in development and lost aircaft,

On 16 February 2000 Northrop Grumman Corp. of San Diego CA was awarded a $71,999,635 modification to a cost-plus-award-fee contract, MDA972-95-3-0013, to provide for two prototype( advanced concept technology demonstration (ACTD) Global Hawk (pic) unmanned aerial vehicles, associated system modification, and engineering support. Expected contract completion date is March 31, 2002.

Global Hawk No. 2, valued at approximately $45 million, crashed at the South Range at China Lake Naval Weapons Center, Calif. When it crashed, there was no fire, the plane was a write-off and China Lake personnel secured the site.

In March, 1999, a Global Hawk vehicle, with its sensors, went out of control and was destroyed.

As of March 2002 the Air Force inventory consisted of three Global Hawk Air Vehicles. Of the six that had been built, three were known to have been lost in lost in mishaps.

Air Vehicle Seven was scheduled for delivery late in 2002, and AV seven and eight were to follow in 2003. As of early 2002 plans were under way to accelerate production to two aircraft in 2004, four in 2005 and six in 2006. Each one of these ACTD vehicles is a one of the kind development project.

Global Hawk is the most expensive UAV currently available. As of mid-2002 the estimated unit costs had tripled over the original estimate of $15 million apiece. The aircraft costs about $48 million with a full sensor quite, or about $70 million each if development costs are included. By contrast, the smaller Predator costs about $4.5 million. Production line vehicles have been tested but not deployed in combat yet. Total costs of the project exceed US$ $2 Bn.

Which is just as well because some 2 months ago a Global Hawk RQ-4A, launched from Abu Dhabi, flamed out the Rolls Royce engine died and control was lost. In a "dead stick" recovery it was landed in Afghanistan. This is the third engine failure reported within recent months.

Which is just as well because it is the only Global Hawk in area.

However production has commenced and air trials undertaken on the new RQ-4B Global Hawk which is larger than the currently deployed Advanced Concept Technology Demonstrator Global Hawk systems and the RQ-4A version. It carries 50 percent more payload and provides two and a half times the available onboard power for carrying multiple sensor systems and weaponry. They are going to be based at North Dakota's Grand Forks Air Force Base. The Air Force decided to put UAVs at the base after initially planning to recommend its closure.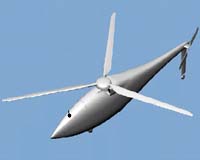 The Army A160 Hummingbird, (originally developed by Boeing Frontiers Systems, Irvine CA - remember every branch of the military have to have their own toys) unmanned aerial vehicle made its first test flight as part of a Boeing $50 million ceiling-priced indefinite-delivery, indefinite-quantity contract, recently from an airfield near Victorville, CA.

The successful 80-minute test included both hovering and forward flight. The gasoline Subaru 300 hp auto engine powering it, shut down prematurely during the approach phase following a successful long-endurance flight.

The accident wrecked the prototype but a further prototype is already being built. There are plans to change plan to change to a gas turbine engine of 500 shp of 'an existing commercially available powerplant'. Rolls Royce have previously announced they are developing a 400 shp version of the Allison –250 series for an "unnamed customer". However the Pratt and Whitney Canada PW200/55 powerplant has been named as has a Sonex diesel engine.

The A160 is an unmanned helicopter, with hingeless fixed rotor blades 36feet diameter is 35 feet long and designed to fly 2,500 nautical miles with endurance in excess of 24 hours and a payload of more than 300 pounds an estimated top speed of 140 knots at ceilings of up to 30,000 feet.

The aircraft that crashed had flown a set pre-planned course course in the Victorville area at 4,000 ft at about 60 knots of about 1200 miles in total said to be the longest known unmanned helicopter flight to date.

It has also been said that another Defense Advanced Research Projects Agency (DARPA ) project for a Canard Rotary wing (CRW) is under development to research a stopped rotor, propulsive forward flight approach to combining hovering and high speed capabilities. The first prototype crashed on it's second flight.