Rafael ('Rafi') Eitan (born it is said November 23, 1926) is the leader of Gil - Gimla'ey Yisrael (pensioners of Israel ) party which unexpectedly won 7 seats in the Israeli 2006 elections. Eitan is minister responsible for old-age pensions. He is also known as "Stinky" in Israel's intelligence community , (he fell into a sewage ditch when he was in the Palmach, the strike force of Israel's pre-1948 defense organization).

In 1981, Eitan was named head of the Defense Ministry's Lekem, the Bureau for Scientific Relations, where he continued work on terrorism. He was said to have planned the bombing of the Iraqi Osirak reactor (after the Iranaians with the help of Israel had missed) and also been involved with in earlier years with kidnapping Eichmann in 1960. In 1984, Lakam was put in touch with Jonathan Pollard, an American citizen, who worked on anti-terrorist activities at the US Naval Investigative Services. Pollard had contacted the Israeli government with top secret information on the terrorist activities of Israel's enemies. When Jonathan Pollard was arrested in the US in 1985, Lekem was disbanded. (see Footnote on Pollards activities)

In 1985, Mossad / Israeli agents helped track an IRA bomb team in Gibralter in conjunction with MI 5/6/SIS. The three member IRA team was killed by the British SAS, in contoversial circumstances. It was subsequently reported in British papers that Rafi Eitan and Mossad had played a surveillance role in the operation, and IRA command put out orders for assassination teams in Ireland and Britain to find and kill Rafi Eitan.Eitan left the UK.

In 1992, Irving Semmel, a Brazilian businessman, worked with Eitan to bid on a contract for an agricultural deal in Cuba, involving citrus cultivation, an Israeli speciality. Eitan won the bid and built a partnership with four other international entrepreneurs to run the deal. Jagüey Grande, where in the 1999-2000 season some 422,000 tons of oranges and grapefruit were harvested. About 360,000 tons were processed into concentrate and juice for export. Grupo BM has reportedly invested over $20 million in its Jagüey Grande operations, located 100 kilometers east of Havana, in Matanzas province - said to be about the size of Gaza. (Pic is of Eitan in Cuba "a simple farmer" AKA Mr Magoo)

The company GBM (Grupo BM) was also incorporated in Cuba, but Eitan represents the company in Israel under the name Reesimex International Trade Limited.

Reesimex undertook work involving US$200 M in bilateral trade with different partners in Brazil for ;

- establishment of a radio communications system for the State Police in the State of
Sao Paulo;
- sale of computerized, education equipment to various Brazilian universities;
- sale of CT (computerized tomograph) Scanners to government hospitals in the State of Sao Paulo;
- establishment of a long distance (via satellite transmission) learning/training system in the State of Rio Grande de Sul;
- sale of public security programs/training/equipment to police forces in various states;
- water and waste water purification and irrigation projects in various states;
- various educational/training programs for several universities/private foundations in several Brazilian states;
- various projects dealing with traffic and transport, such as vehicle registration,
roadside truck scales, street and highway lighting, access control and tracking of
transport containers, CCTV and other road security systems, and others:

Building on this success GBM also won the contract to build the Miramar Trade Center, Havana, 18 six-floor office buildings located on 180,000 square meters (nearly two million square feet). The Miramar Trade Center (MTC) is the brainchild of Inmobiliaria Monte Barreto S.A., a joint venture between Cuban state agency Cubalse S.A. and Grupo BM. Immobiliaria Monte Barreto's chairman is Enrique Rottenberg, an Argentine Jew living in Cuba.

The Miramar Trade Center is located at Tercera Avenida between Calles 70 and 80. That puts it practically within walking distance of some of Havana's most important hotels: the Meliá Habana, the Neptuno, the Tritón, the Comodoro, the Novotel Miramar and the Panorama. In the area are many state-run trading companies, foreign firms, the International Conference Center, many embassies and the Ministry for Foreign Investment and Economic Cooperation.Phases I and II are complete and Phases III, IV and V -- each containing four buildings -- will begin in 2004, 2005 and 2006, respectively, with each phase requiring two and a half years to complete construction.The building is wired to CAT 5 and has the latest communications facilities - oh so easy to tap into ?

The project was designed by Cuba's Empresa de Diseño de La Habana, in conjunction with ZP International Inc., whose credits are said to include Toronto's Eaton Center and London's Canary Wharf.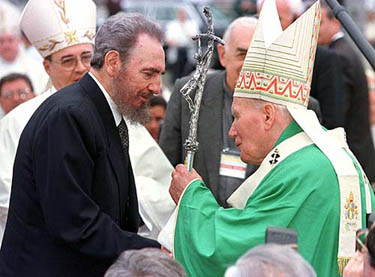 What really surprises is the news of the opening of a Holocaust Memorial at the center of the Old City of Havana in Ynet news, on the 22nd June, 2006 with a massive Menorah lit at a public Chanukah service by Castro and Eitan together and Tel Aviv's Ashkenazi chief rabbi, Israel Lau was present. The Menorah is 2.5 meters (8.1 feet) tall and 2 meters (6.5 feet) wide and is designed by Israeli sculptor Yuri Matzkin, who teaches at the University of Tel Aviv.

In the restoration of Old Havan is the Rachel Hotel which is owned by Eitan.

Recently, GBM was awarded the "Medal for Agricultural Work" by the Cuban government and Eitan's office has a portrait of Castro in his office. Note - Israel is the only country in the world that has consistently backed the U.S. trade embargo against Cuba whenever the issue comes up in the United Nations (they are supported by Palau and the Marshall Islands although Micronesia abstains). Israel does not have diplomatic relations with Cuba and these are handled by the Canadian Embassy but they do not operate a trade embargo !

There are said to be 1,000 Jews in Cuba, where they have been granted the freedom to worship and receive support from Jews in the United States and Europe. Cuba has five synagogues: three in Havana, one in the central provincial capital of Camaguey and one in the eastern city of Santiago de Cuba.

Enrique Oltuski, a hard-line Communist who fought with Che Guevara in the 1950s against the Batista dictatorship, is Cuba's vice minister of fisheries and one of the highest-ranking Jews in the Castro regime.

In addition to this deal, GBM has started expanding its business deals to the rest of Latin America (see Brazil deals above) . It runs various agricultural projects in the Dominican Republic, among others.

In the Jerusalem Post today Eitan gives an interview in which he says he regrets recruting Pollard and says Israel could and should have obtained the information via legal means.

"I gave my opinion to the Americans that I made a mistake [when I operated him] but that Israel was in dire straits, which makes people do things beyond what is permitted," Eitan said. "It is likely that we could have gotten the same information without him."Eitan is still wanted by the FBI - notoriously Israel has no extradition treaties.

When asked what should be done to bring about Pollard's release, Eitan said, "No one knows what could get him free." "There is no doubting the fact that his wife is in the way," he added in a pretty ungracious fashion , in a reference to Pollard's outspoken wife, Esther.

Esther Pollard (Pollards wife) recently wrote about a meeting with Eitan years ago in which Eitan said the only thing he regretted about the Pollard affair was that he did not "finish the job" before leaving the US. Pollard wrote that when "we asked him what he meant by this, Eitan replied, 'If I had been at the [Israeli] Embassy when Pollard came to seek asylum, I would have put a bullet through his head and there would have been no Pollard affair.'"

Apparently Eitan's spokesman could not or would not respond to Esther Pollard's claim.

NOTES

See There's something "Stinky" in Cuba By Mary Rizzo 14/7/2006
http://onlinejournal.com/artman/publish/article_995.shtml">f="http://onlinejournal.com/artman/publish/article_995.shtml">http://onlinejournal.com/artman/publish/article_995.shtml

Mario Rizzo writes as Peace Palestine Blog and lives in Italy

Why Pollard Should Never Be Released (The Traitor)
The New Yorker Magazine | January 18, 1999, pp. 26-33 | SEYMOUR M. HERSH