We are indebted to the excellent (and vastly underheard and underrated Rod Sharp on BBC Five's Up all Night) for flagging up President Chavez's concerns about 15 year old Venezulean girls on their "quinesa" or 15th birthday being given breast implants by their parents.

Unless hearing is going the way of Alzheimers, the report said that 400,000 Venezuelean women (Total pop. 26Mn !) seek breast "augmentation" every year at a cost of upwards of 2,000 Yanqui dollars a time... which seems highly improbable...but should do wonders for the tourist trade ... especially tha sad bastards who sit up all night or drive lorries up the M1 listening to this.

Chavez himself reminisces fondly about attending past beauty pageants. But when his televised speech to the United Nations interrupted the September 2005 Miss Venezuela broadcast for 15 minutes, hundreds of angry viewers in Caracas protested by banging on pots from their windows, blowing whistles and even firing guns into the air.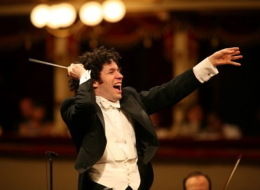 At the same time the child prodigies of the Simón Bolívar Youth Orchestra of Venezuela will make their Bay Area debut(Davies Symphony Hall in San Francisco - next up San Francisco, Boston and Carnegie Hall) led by Venezuelan wunderkind Gustavo Dudamel, 26 and the most talked-about conductor on the planet.

Those who have followed the ecstatic response in Europe have watched the superstars fighting to conduct them including Daniel Barenboim, Simon Rattle, Claudio Abbado and Esa-Pekka Salonen all who praise the youhful (and hey girls glamorous)Dudamel.

When Salonen leaves the Los Angeles Philharmonic,in 2 years Dudamel is lated to will take his place in Walt Disney Concert Hall.

For 30 years, Venezuela's music education program, known as "El Sistema" ( the state funded program that puts an instrument in any child's hand by the age of two)- or the "National Network of Youth and Children Orchestras of Venezuela" - has turned tens of thousands of youngsters into classical players. (Chavez takes the credit but it started long before he was elected) Dudamel the dynamic, rock-star-y conductor and the Simón Bolívar band (one of about 200 youth orchestras in the country today) are its shining stars.

The Department of Health in Venezuela devoted 29 Mn. Yanqui dollars this year to the program whichproduced 250,000 students who practice or play two to three hours a day ans 30 professional orchestras have sprung up to accommodate them, and 125 youth orchestras.

For a taste, go to www.youtube.com, search on "Gustavo Dudamel," and take your pick of videos: The wunderkind conducts Mahler, Shostakovich or Brahms. Or do an Internet search for "Gustavo Dudamel mambo proms," and click on: "Video gtltornt9 - gtltornt, 9 - Dailymotion Share Your Videos."

Girls, get ya tits out... this Dudamel is one hot Dude ... and he has dimples!

PS. Didn't George Best claim Miss Venezuela (AKA Miss World that year ?) was the best score he ever made ?